Product Description
Mi AIoT Router AC2350
Smart Gigabit Router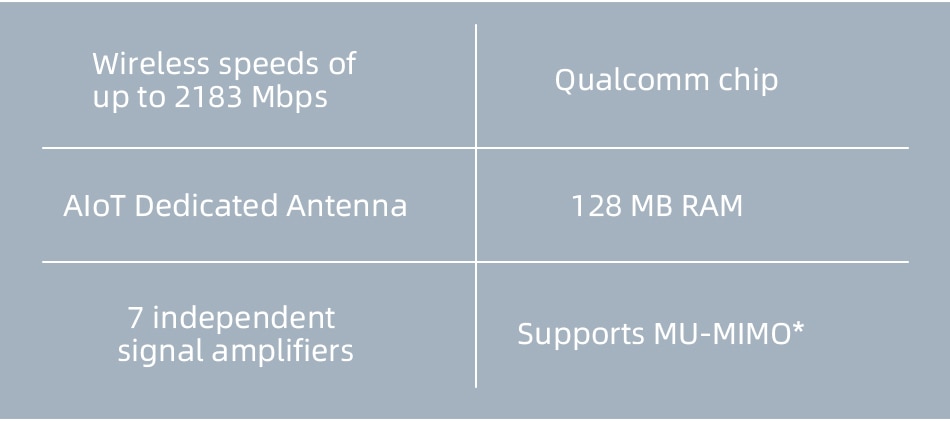 Faster and smarter Experience lightning-speed 2000 Mbps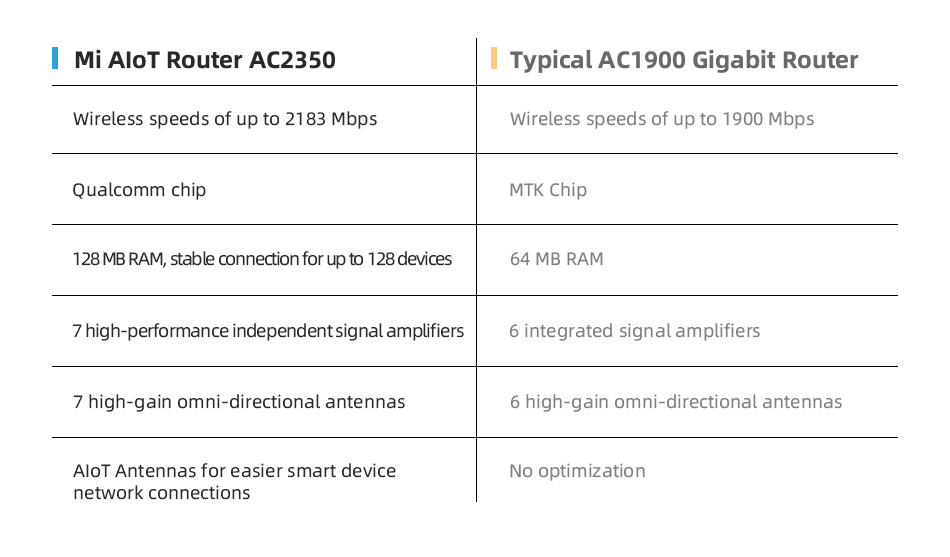 Theoretical wireless speeds of up to 2183 Mbps, for seamless video streaming and gameplay
Dual band concurrent WiFi speeds of up to 2183 Mbps*. The 2.4 GHz band supports 3 inputs and 3 outputs, and has a theoretical wireless speed of up to 450 Mbps, for signal transmission over greater distances and better penetration through walls. The 5 GHz band supports 4 inputs and 4 outputs, and has a theoretical wireless speed of up to 1733 Mbps. The higher speeds allow for a smoother online experience when streaming high-definition videos and playing massively multiplayer games.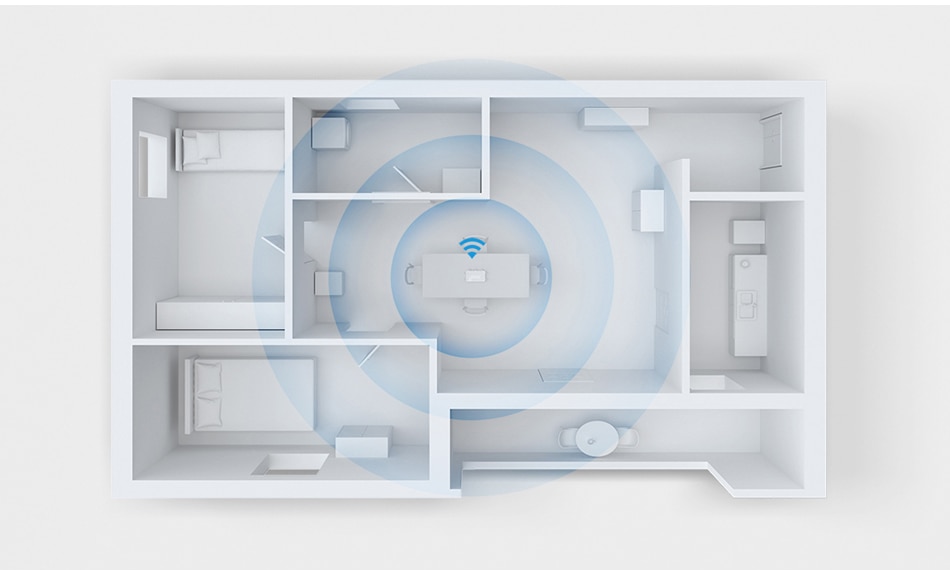 Qualcomm chip, ensures more stable router operations and a smoother online experience
The Qualcomm CPU comfortably supports data forwarding for both Gigabit Ethernet ports and Gigabit dual-band WiFi signals, providing greater processing capabilities and more stable operations.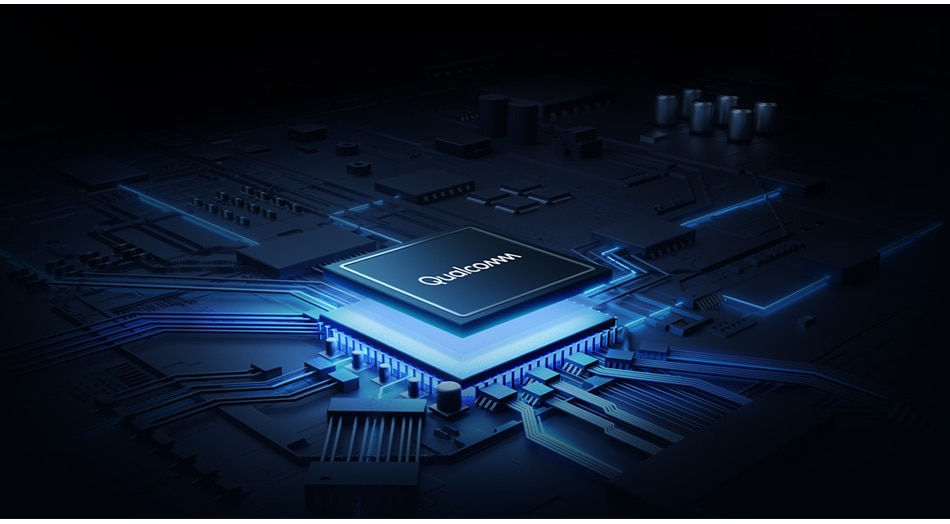 7 high-performance independent signal amplifiers, for strong signals even through walls
The 2.4 GHz and 5 GHz bands are supported separately across 3 and 4 independent high-performance signal amplifiers (PA+LNA) for better penetration through walls. The dual-band WiFi easily provides coverage for even larger homes. The PA (power amplifier) effectively strengthens the signal transmission power, while the LNA (low noise amplifier) can increase the sensitivity of the signal receiver.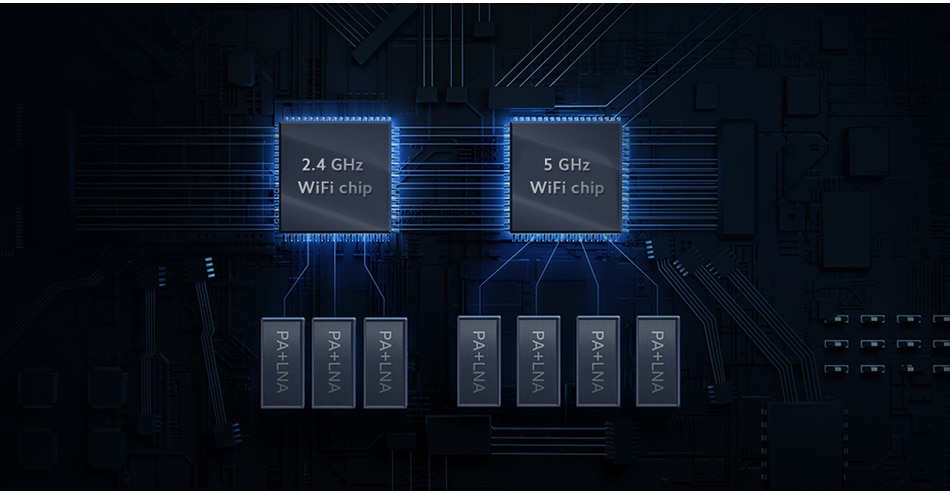 Independent AIoT Antenna, quickly discover any Mi smart device and connect in one step
The independent built-in AIoT Antenna lets you automatically discover nearby Mi Smart devices*, complete network setup in one step and access a wide range of smart features, just by opening the Mi Home/Xiaomi app. You can help your parents set up their new devices quickly, even when you're away from home. *Supports most WiFi-enabled devices that connect via the Mi Home/Xiaomi Home app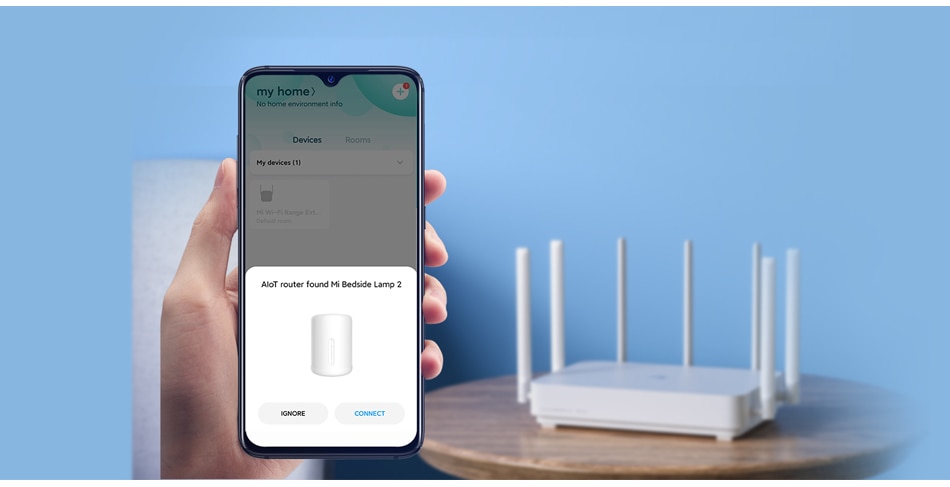 128 MB RAM, stable connections for up to 128 devices
128 MB RAM supports simultaneous connections for up to 128* devices and ensures stable data transmission and connectivity for each device.
MU-MIMO technology, smoother Internet access for multiple users
Multi-user multiple-input and multiple-output (MU-MIMO) technology* allows multiple antennas on the router to serve multiple devices at the same time, and supports simultaneous data transmission from multiple devices, so that slow speeds on one device do not affect the online experience on other devices, for more seamless Internet access.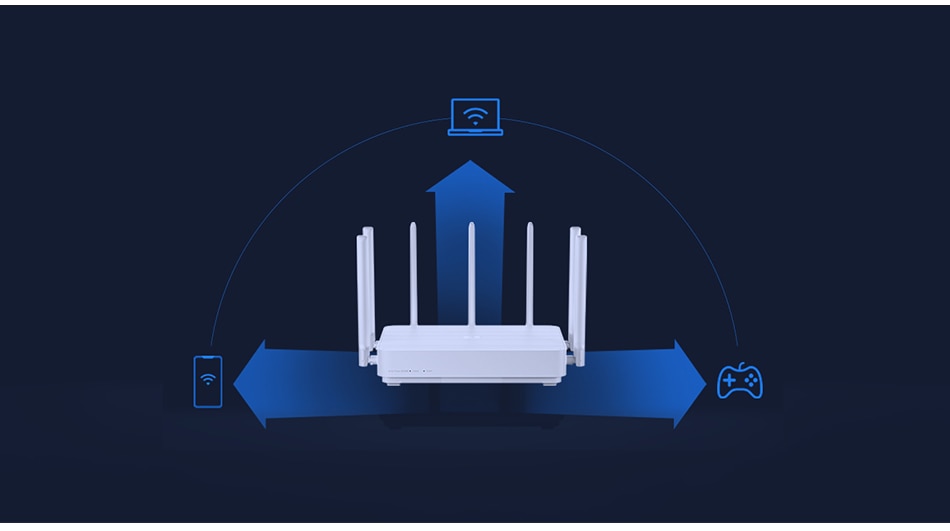 All Gigabit Ethernet ports, make full use of each megaband bandwidth
Equipped with 1 Gigabit WAN port and 3 Gigabit LAN ports to satisfy broadband access requirements for speeds of 100 Mbps and above, capable of handling a maximum bandwidth of 1000 Mbps.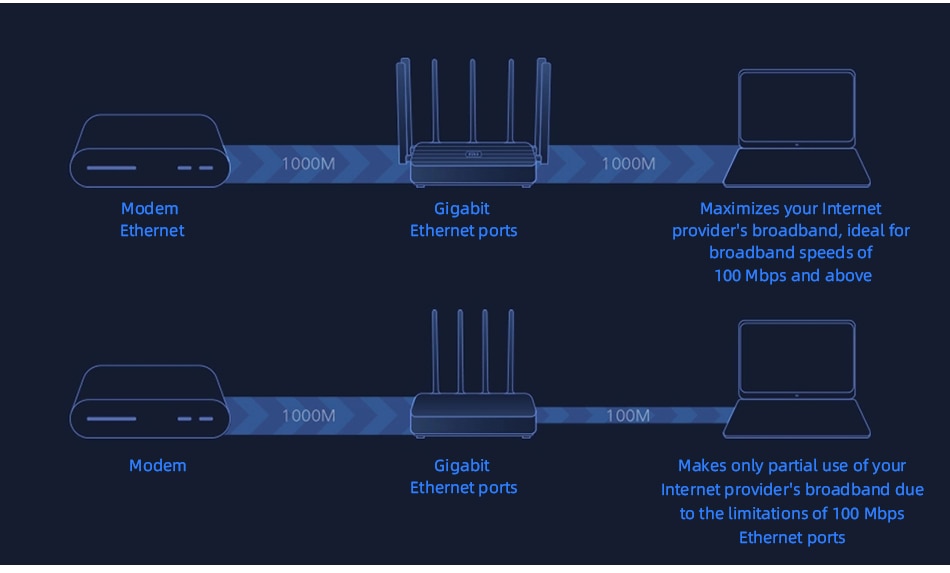 Smart experience, easy to use
Quick and easy network settings and device management. Includes a range of practical features such as unauthorized access prevention and Internet access controls, for maintaining network privacy and security.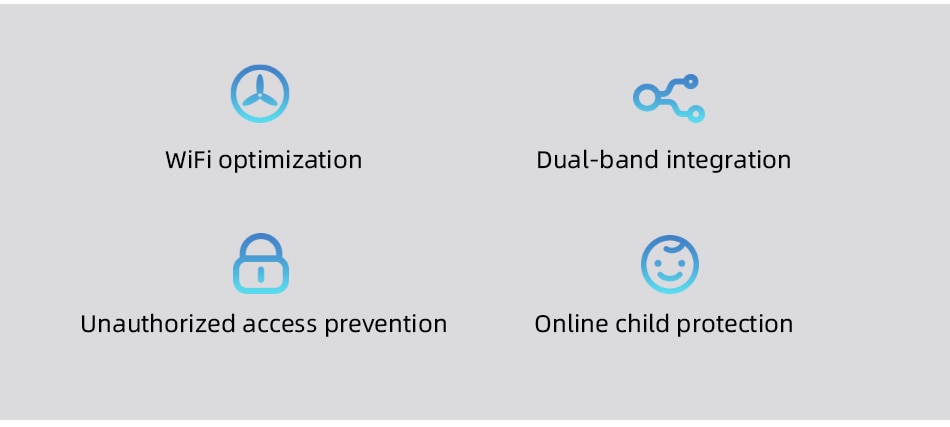 Powerful heat dissipation, ensures the long-term stable operation of the router
The broad-surface aluminum alloy heat sink and high-conductivity thermal paste effectively increase the efficiency of thermal dissipation. Cooling vents on the upper and lower covers provide good air circulation, ensuring that the long-term reliable operation of the router.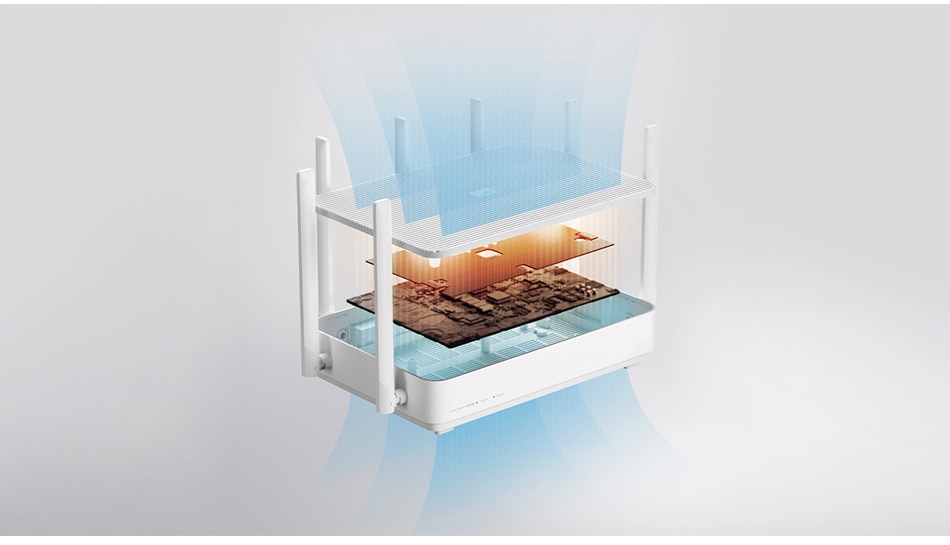 Rigorously tested in the pursuit of excellence
In cooperation with leading international test instrument manufacturers such as Spirent and lxia, we conduct extensive testing to simulate various home-use scenarios and extreme conditions to ensure that the router operates stably under various conditions.
Product Videos
Custom Field
Product Reviews