Product Description
SAMSUNG EVO Plus Micro SD Card
Capacity: 32 GB, 64 GB, 128 GB, 256 GB Read Speed: up to 90MB/s* Write Speed: up to 20MB/s* Video Speed: C10 U1/U3 V30 Form Factor: microSDHC/microSDXC * The foregoing read & write speeds are based on internal tests conducted under controlled conditions. Actual speeds may vary depending upon card capacity. * 4K UHD video support for 512GB, 256GB, 128GB cards. FHD video support for 64GB, 32GB cards. Host device compatibility may vary. About capacity: 32GB=approximately 28GB~30GB 64GB=approximately 58GB~60GB 128GB=approximately 115GB~118GB 256GB=approximately 230GB~236GB 512GB=approximately 460GB~474GB Speed: 32GB --Class 10 U1-microSDHC 64GB --Class 10 U1-microSDXC 128GB --Class 10 U3-microSDXC 256GB --Class 10 U3-microSDXC 512GB --Class 10 U3-microSDXC Features: Interface: SAMSUNG MicroSDXC/SDHC EVO Plus Memory Card 512GB/256GB/128GB/64GB (2020 Model) microSD Speed Class: Class10 Power supply voltage: 2.7 ~ 3.6V (max) Compatible standards:microSD memory card Ver.3.00/Ver.2.00 standard Exterior dimensions: 15.0mm (L) * 11.0mm (W) * 1.0mm (T) Weight: About 0.4g Please insert microSDXC and support microSDHC microSD card slot to use. Support high speed SD bus interface specifications (*) in the new UHS-I. Only with the support of UHS-I devices used in UHS-I mode. (see below) The temperature of -25 to 85 DEG C, relative humidity 30 ~ 80%RH (no condensation) Package Contents: SAMSUNG Micro SD with Retail Package*1 *This is calculation difference between manufacturer and our PC, please Google 'Memory card capacity' to get more information Warm Tips: Please use quaity card reader to verify all memory card by H2testw on PC Please don't use cheap card reader to test Micro SD card, speed of Micro SD card will be reduced by low quality card reader The most reliable software to verify memory card is H2testw
Simply the right card
More space and higher speed. Free up your devices with the largest capacity and highest read/write speeds in its class, perfect for 4K UHD video.* With astonishing performance and reliability, EVO Plus lets you save and treasure the richness of life.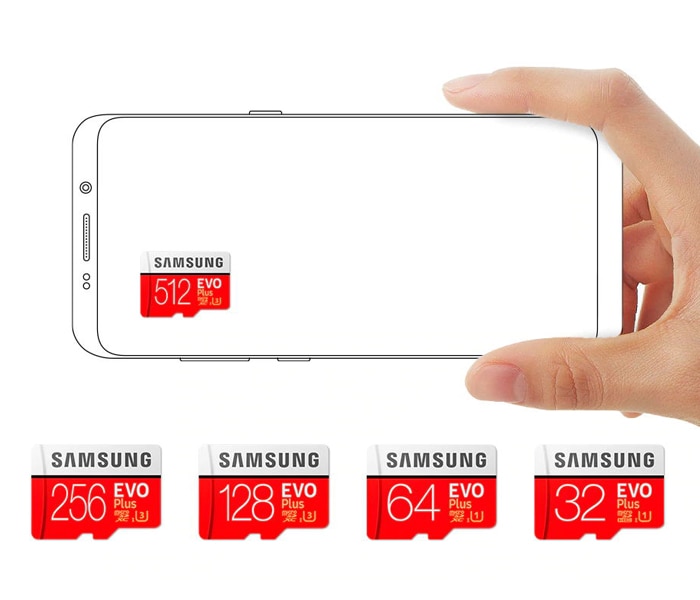 * 4K UHD video support for 512GB, 256GB, 128GB cards. FHD video support for 64GB, 32GB cards. Host device compatibility may vary.
Fulfill your need for speed
Record and play 4K UHD video without glitches. With superfast read & write speeds up to 100 MB/s & 60 MB/s respectively, the 512GB EVO Plus lets you transfer a 3GB video to your notebook in just 38 seconds.* Shoot flawless high quality photos and videos, and share them all in an instant.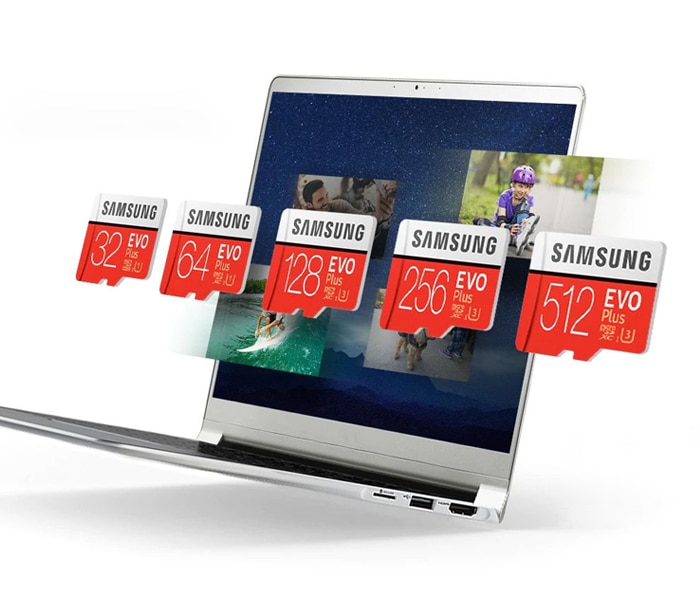 * The foregoing read & write speeds are based on internal tests conducted under controlled conditions. Actual speeds may vary depending upon card capacity.
Capacity to live large
Never worry about space again. A massive memory of 512GB is enough for 24 hours of 4K UHD video, 78 hours of Full HD video or 150,300 photos.* So go ahead and savor all of what life has to offer and keep it all too.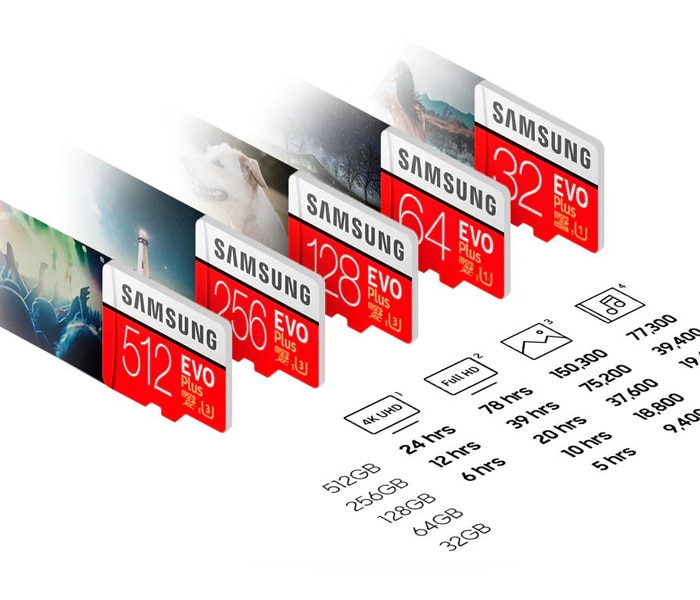 * Test Device : Samsung Galaxy S9+For 32GB, FAT32 file system is used and for 128GB / 512GB, exFAT file system is used.¹ 3840x2160 4K UHD(30 fps), Average file size recording for 30 mins : 10.1GB² 1920x1080 Full HD(30 fps), Average file size recording for 30 mins : 3.09GB³ 4032x3024 12MP, Average file size : 3.25MB´ Average MP3 file size : 6.2MB
Extended compatibility
Compatible with a wide range of devices for both SD and micro SD. You can even capture detailed 4K UHD video. The included SD adapter fits most devices under almost every brand name, while preserving all of EVO Plus' outstanding speed and performance.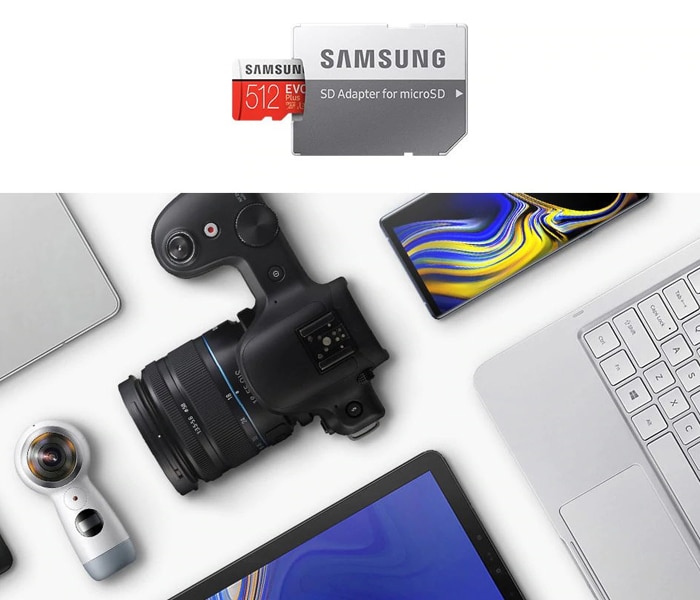 4-proof protection
Your experiences are irreplaceable, and now unforgettable. Backed by 4-proof protection, the EVO Plus can withstand up to 72 hours in seawater¹, extreme temperatures², airport X-ray machines³ and magnetic fields´ equivalent to an MRI scanner. Samsung provides a 10-year limited warranty.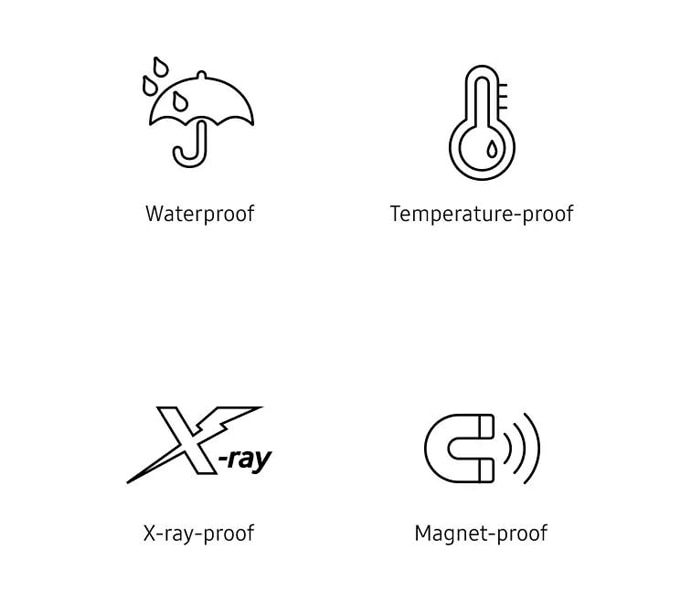 ¹ Certified waterproof with IEC 60529 and IPX7 ratings² Operating temperatures of -25"ƒ to 85"ƒ, non-operating temperatures of -40"ƒ to 85"ƒ³ Up to 50 Roentgen´ Up to 15,000 gauss* Samsung is not liable for any i) damages and/or loss of data or ii) expenses incurred from memory card data recovery.
DISCLOSURES
*1 According to SAMSUNG's test based on IPX7 standard, the product can function, after it is submerged quietly and left for 30minutes in static tap water at room temperature and in depth of 1m and then it is taken out of the water. Caution remarks on "waterproof". - If liquid is applied on (touches) the card, remove the liquid by soft cloth immediately. - The waterproof is based on our internal testing, and does not guarantee usage under "all/any" conditions. Please be aware. *2 ISO7816-1 compliant means, that even after exposing this product to X-ray 0.1Gy, the product will still work. *3 The Product is labeled based on the memory chip (s) it contains, not the amount of memory capacity available for data storage by the end user. Part of the capacity is reserved for card functionality. Approximate usable capacity is based on 1 GB = 1,073,741,824 bytes. *4: 1 MB per second is calculated as 1,000,000 bytes per second. *5: For products incompatible with UHS-I interface, the speeds may vary subject to different interface conditions* Write speed is slower than transfer speed. *6: Indicates reading and writing speeds based on SD Association specifications.
How many pictures can my memory device hold?
The following assumptions were made to calculate the number of images per card: MP = 1,000,000 pixels 1MB = 1,000,000 bytes, 1GB = 1,000MB TIFF image has 24 bit color depth, one of 16,777,216 colors per pixel JPEG 100% Quality = Visually lossless JPEG compression with 1:10 ratio of RAW image Photos - Compressed (JPEG 100% quality) Images per card.
Why do I get a "The disk is write-protected" message when I transfer files to my SD card?
SOLUTION 1 - Unlock the memory card. There is a Lock switch on the left side of the SD card. Make sure the Lock switch is slid up (unlock position). You will not be able to modify or delete the contents on the memory card if it is locked. SOLUTION 2 - Toggle the lock switch. If the lock switch is loose and moves easily It is likely the switch is sliding to the locked position as the card is placed in your host device. In this case the card will need to be replaced.
How do I format my memory card, flash drive or device using a PC?
NOTE: All SanDisk memory cards and flash drives come pre-formatted and do not need to be formatted out of the box. Memory cards are formatted with the following standards: SD/microSD- 2GB or lower:FAT16 SDHC/microSDHC- 4GB to 32GB: FAT32 SDXC/microSDXC- 64GB or higher: exFAT CompactFlash- up to 128GB: FAT32 CompactFlash- 256GB: exFAT Reformatting may clear file system corruption and quickly erase everything on the device. If re-formatting is needed, follow the steps below. WARNING: Backup all your data before formatting. Formatting will erase all data on the memory device.
What is the difference between Speed Class and Speed Ratings for SD/SDHC cards?
The speed rating measures maximum transfer speed for reading and writing images to and from a memory card, expressed as megabytes per second. However, video doesn't need as big a data pipe because the video format is a smaller "fixed stream" that uses only a portion of the data pipe. Unlike card write speeds that measure maximum performance, class ratings measure the minimum sustained speed required for recording an even rate of video onto the card. The class rating number corresponds to the transfer rate measured in megabytes per second. Class 2 cards are designed for a minimum sustained transfer rate of 2 megabytes per second (MB/s)*1, while Class 10 cards are designed for a minimum sustained transfer rate of 10MB/s *2.
Why do I see the SATA Link Speed is 6.0 Gb/s in Device Detail page when I connect the SSD to a USB 2.0 port using a SATA-to-USB adaptor cable?
The SATA Link Speed is the speed that is negotiated between the USB cable and the SSD, which is not the interface speed between the USB cable and the host platform.
Product image presentation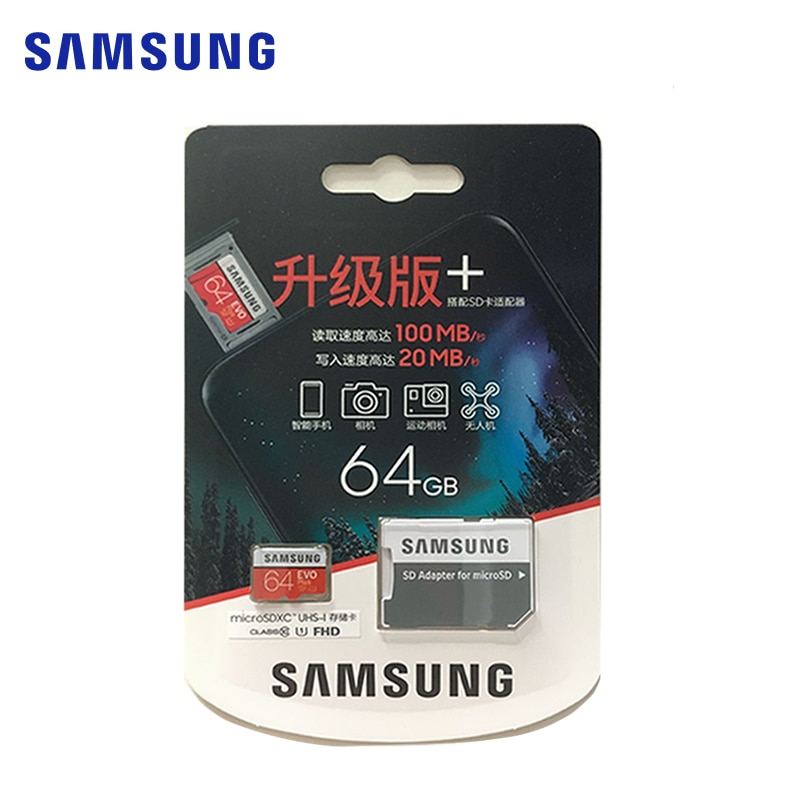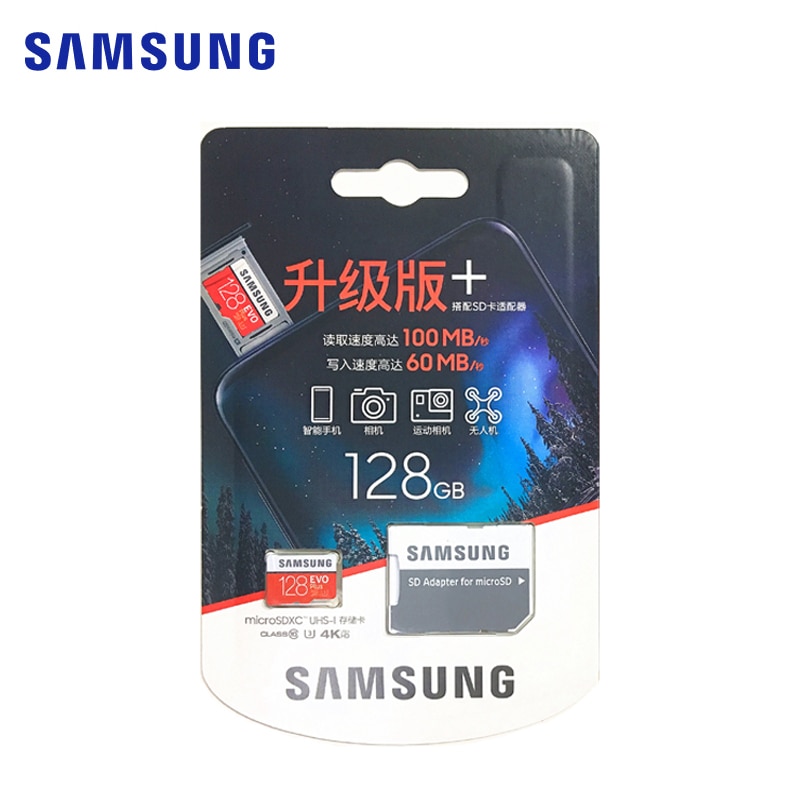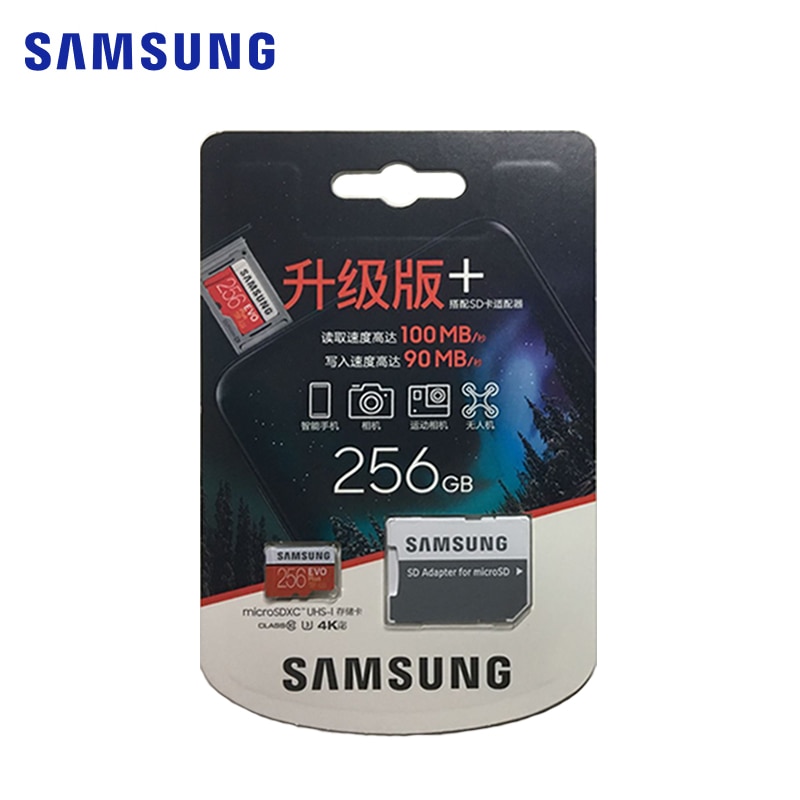 Product Videos
Custom Field
Product Reviews