Product Description
3D RGB Lighting Effect
Compatibility: Support INTEL SOCKET LGA1150/1151/1155/1156/LGA775/1200,AMD SOCKET FM2/FM1/AM3+/AM4/AM2/940/939/754.
Support AURA SYNC, 5V 3pin ARGB
One 4pin PWM fan, and one 3pin RGB fan, Great cooling effect.
Package Includes:
Radiator*1
LGA 115X/775/1200 Bracket*1
Screw Bag*1
Thermal Paste*1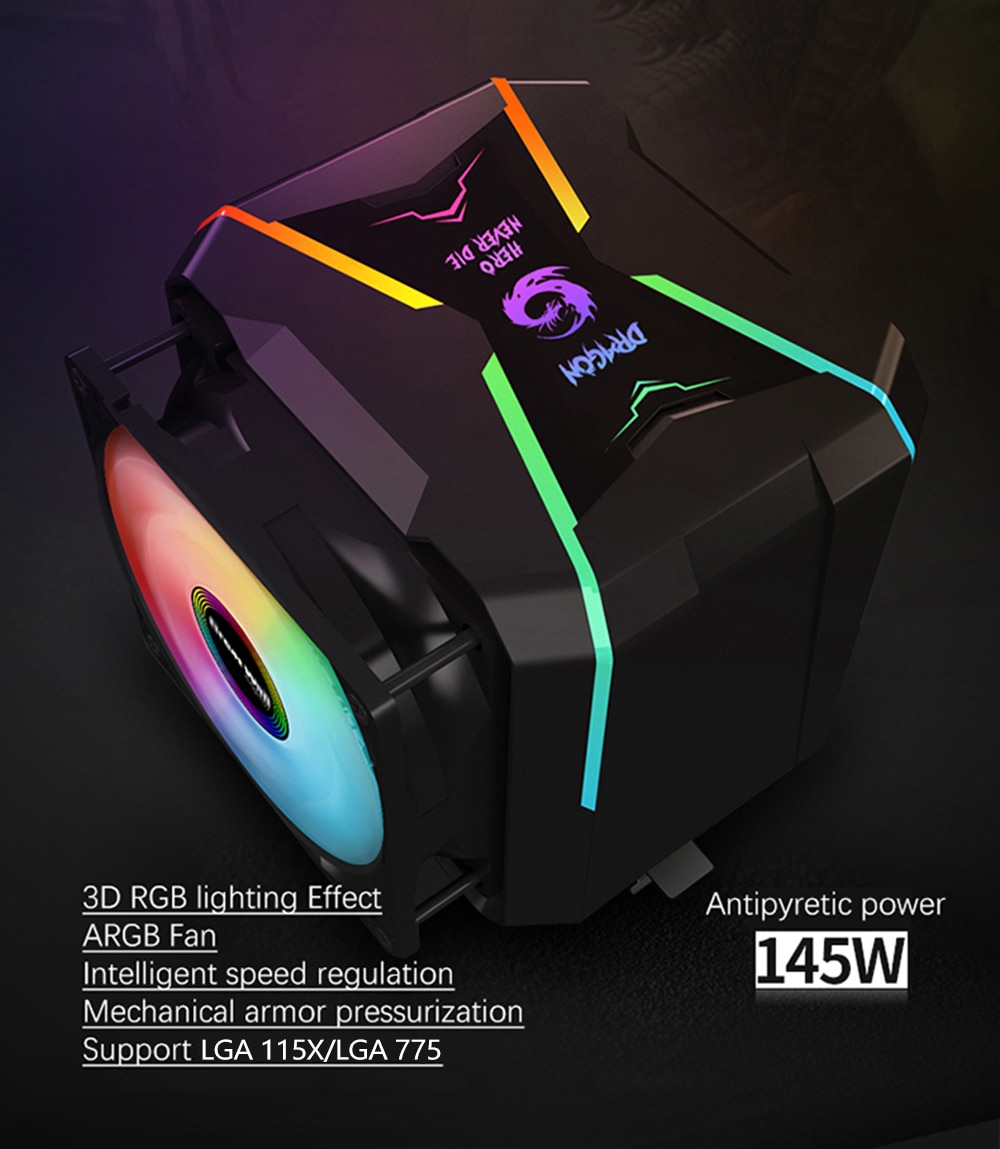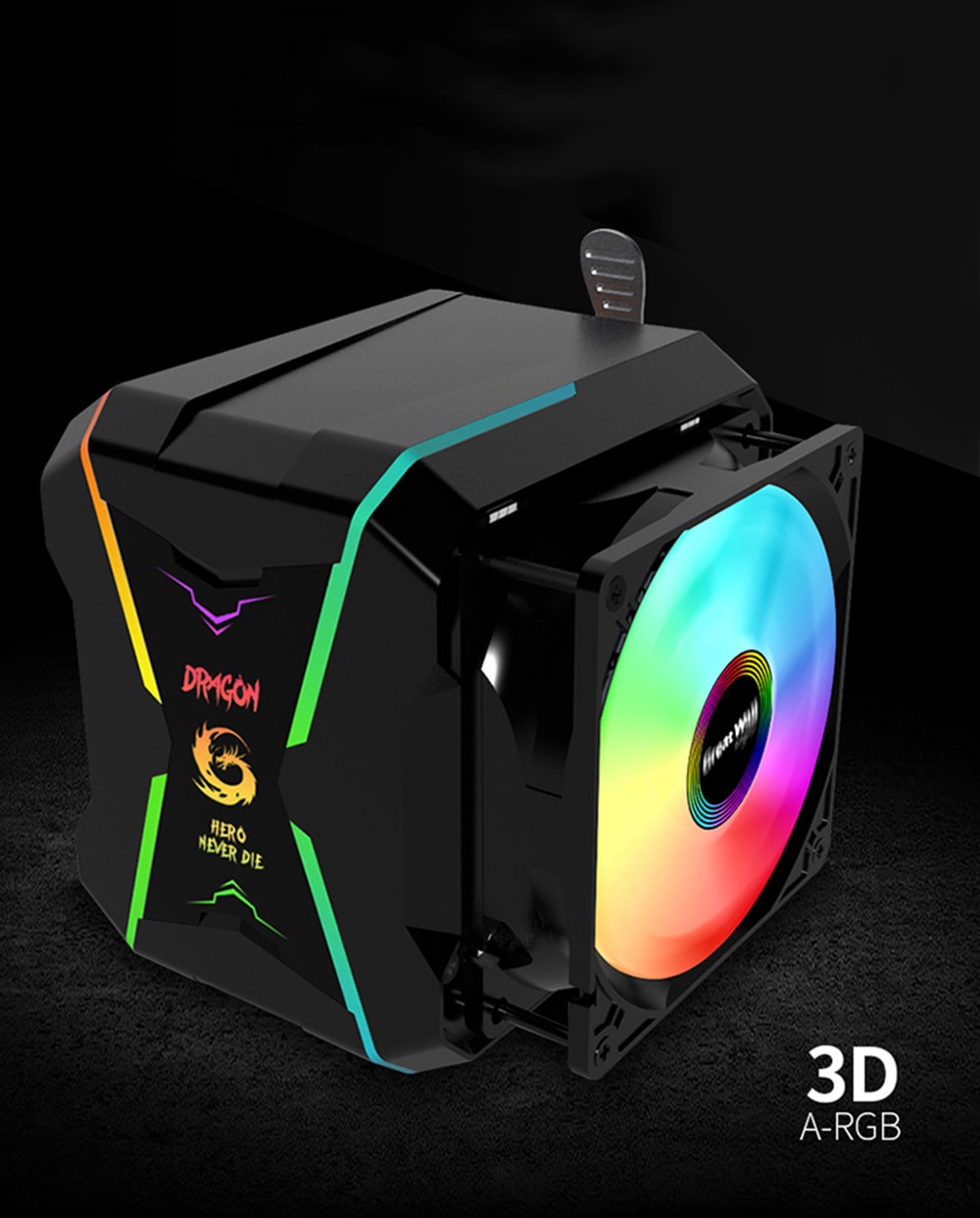 Advantagei¼s
Support mainstream and motherboard lighting effect synchronization
Support ASUS, ASRock, MSI, Gigabyte and other lighting effects synchronization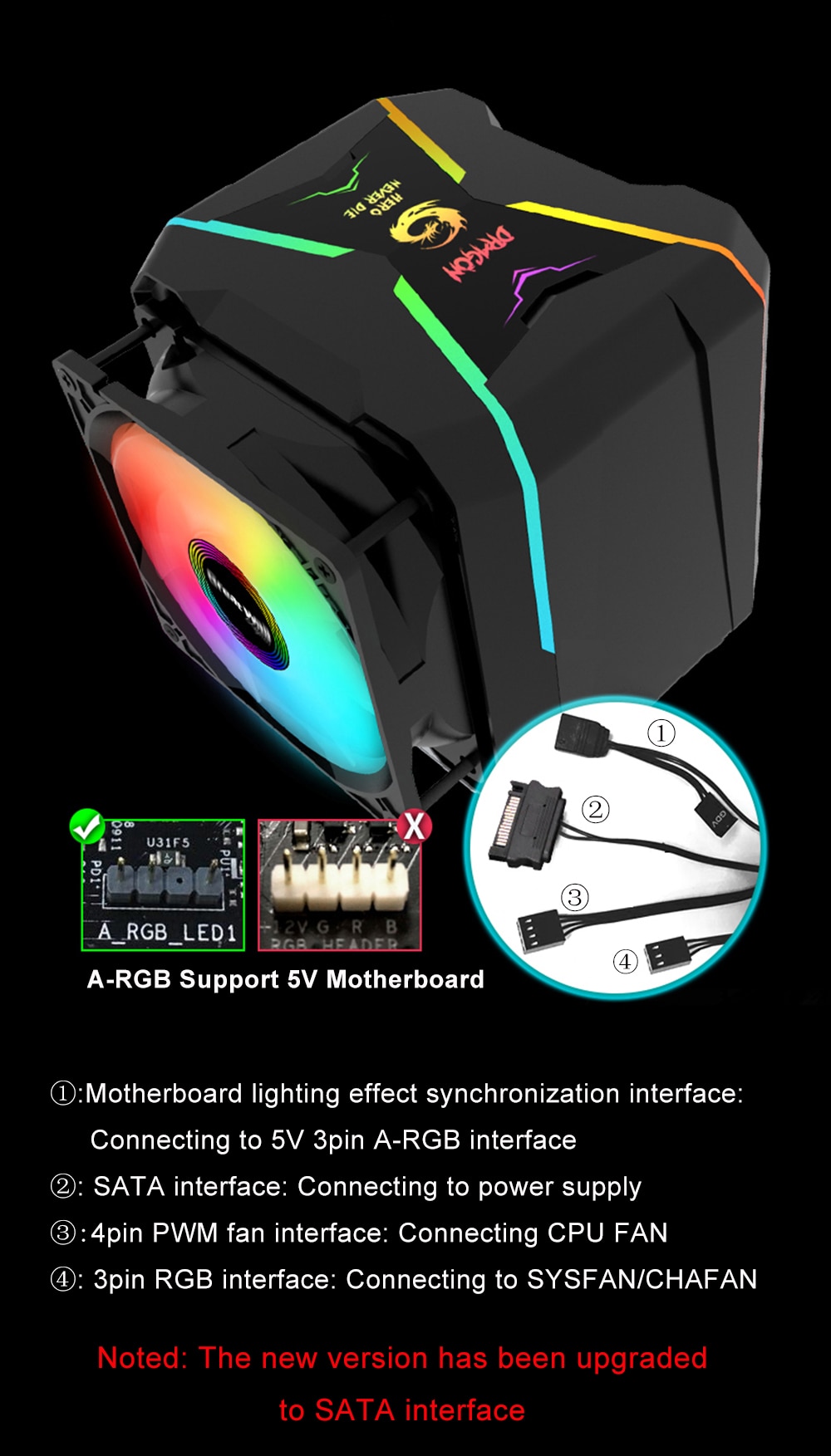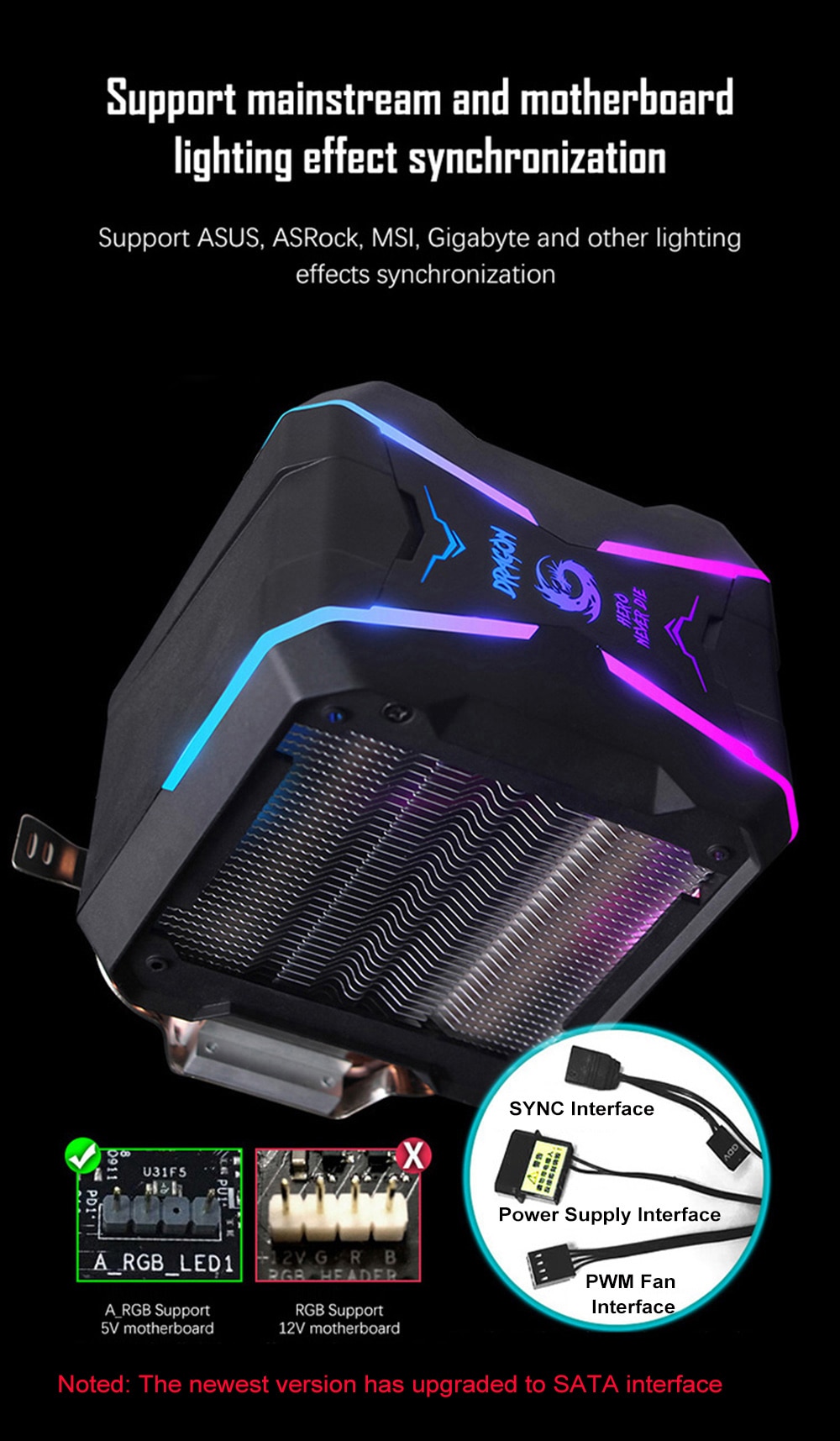 Note:
RGB lighting effect only supports
5V voltage
interface. Please check the interface voltage of the motherboard to avoid damage .
Please note that the direction of the interface is the same as the power interface. And it will be burned immediately after being reversed.
Double tower and double fan structure, four heat pipes directly contact the base
4 heat pipes matrix distribution, efficient heat conduction, double fin design. Increase heat dissipation area
The front and rear fans blow straightly, forming a powerful air duct to take away heat faster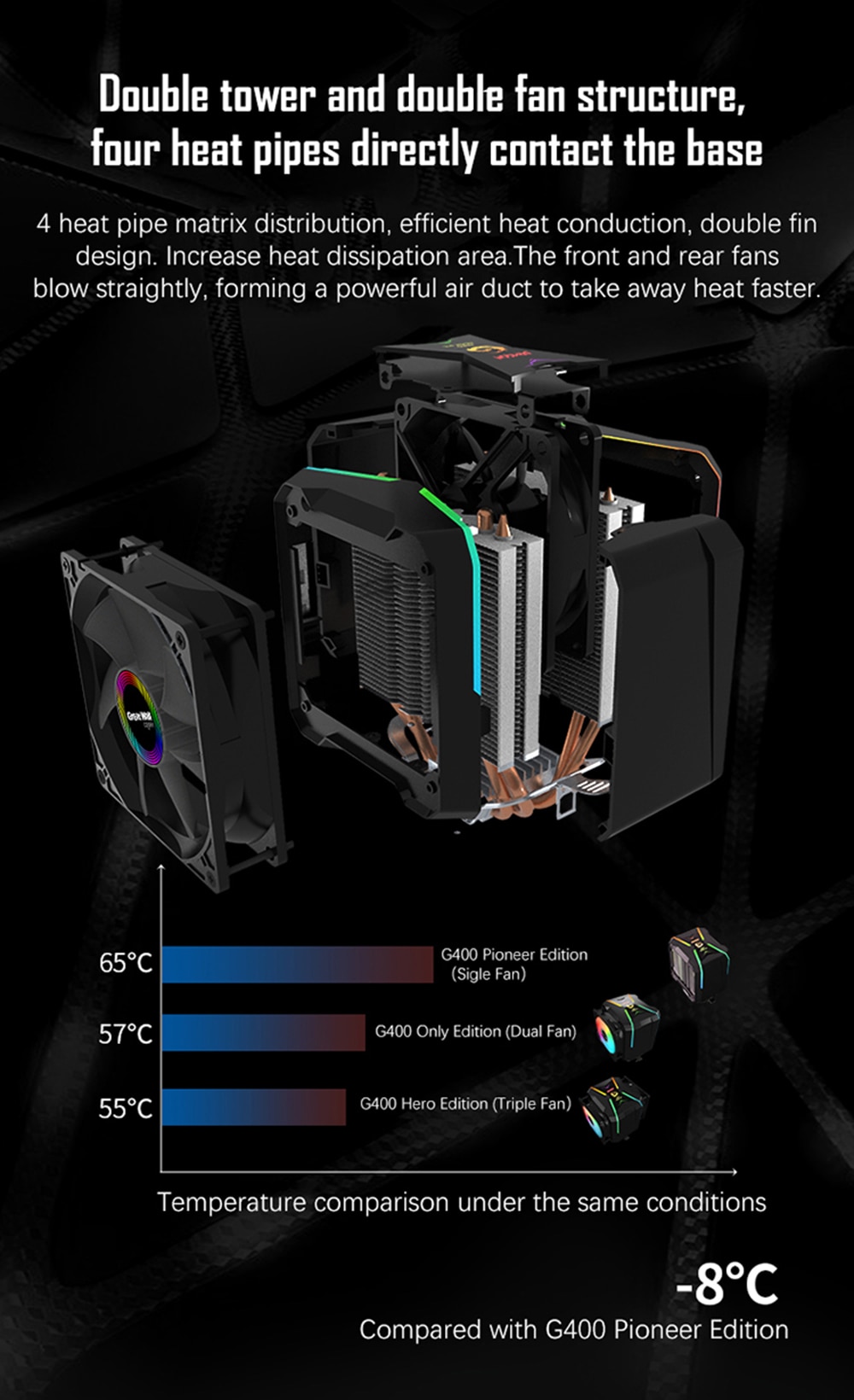 Synchronized Lighting Effects
PWM Intelligent Speed Regulation
Temperature-controlled fan
Wind Chamber Pressurization Technology (WCP)
The mecha shell to create a closed wind chamber for powerful pressurization. Create stronger air ducts with high-pressure high-efficiency fans, focus on the wind pressure and directly blow the cooling fins and copper pipes, speed up the thermal cycle and improve the overall heat dissipation efficiency.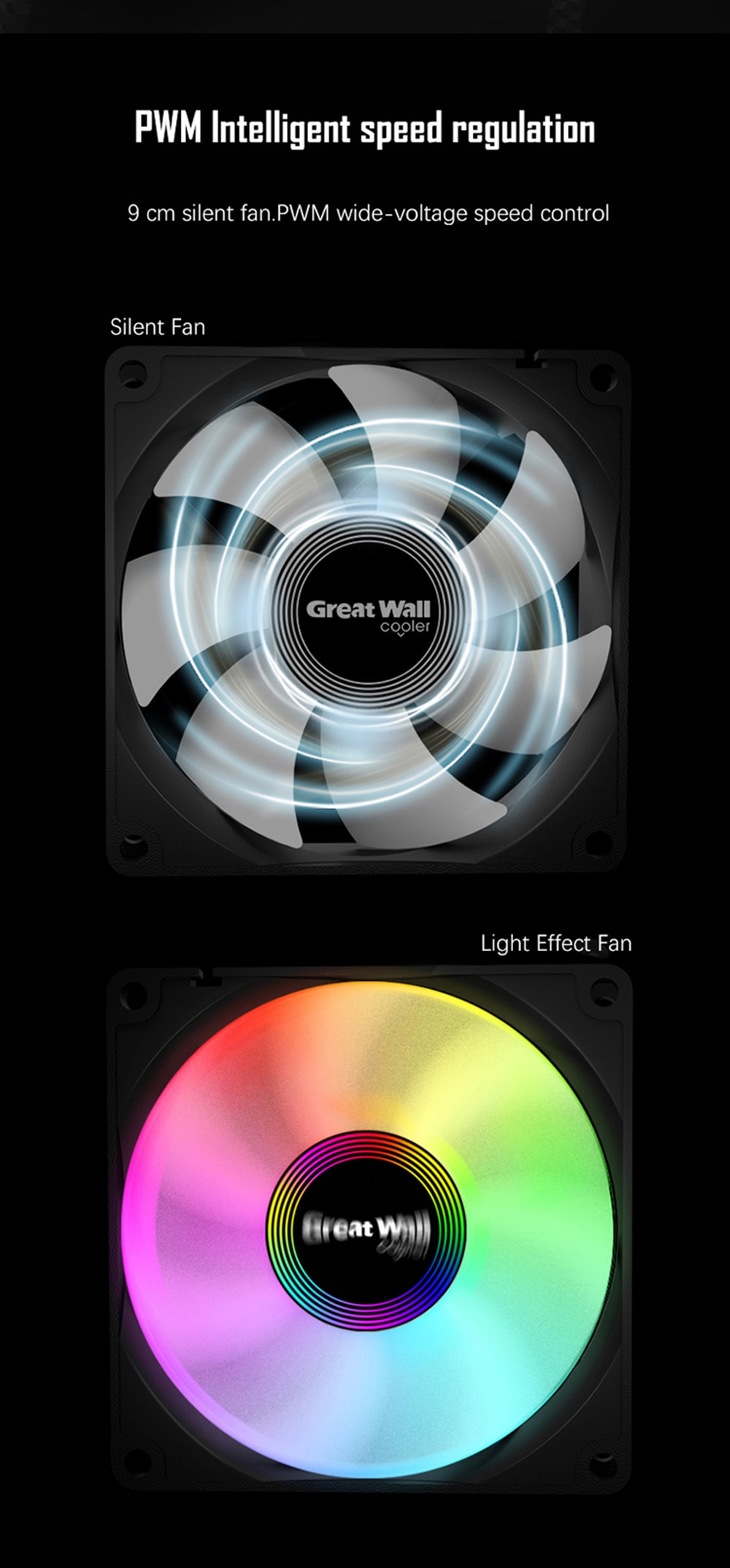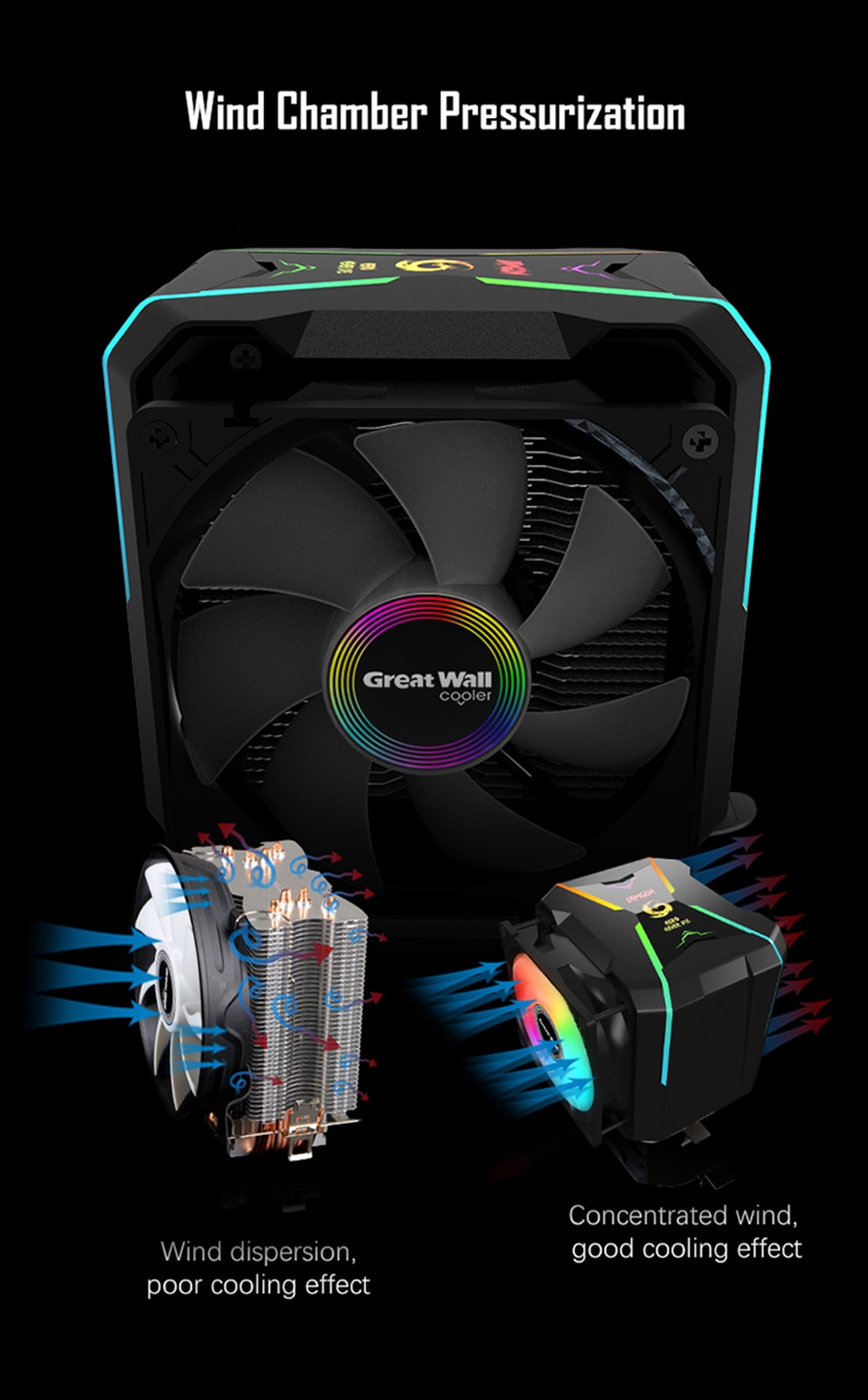 Bridge Type Buckle With Even Force
Ultra-thick aluminum bottom for enhanced heat dissipation
Bridge type buckle design, more uniform force, give more care for the motherboard, more secure fixing, ensure that the CPU and the radiator are in close contact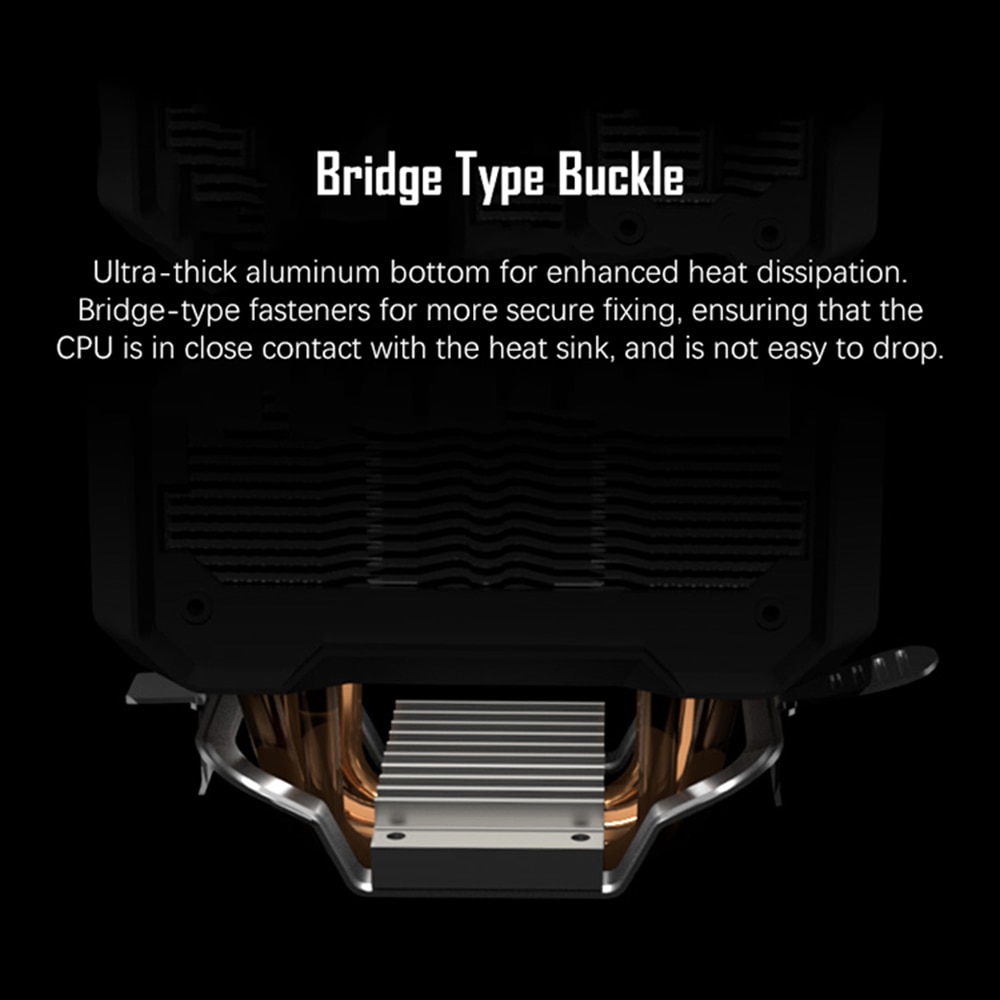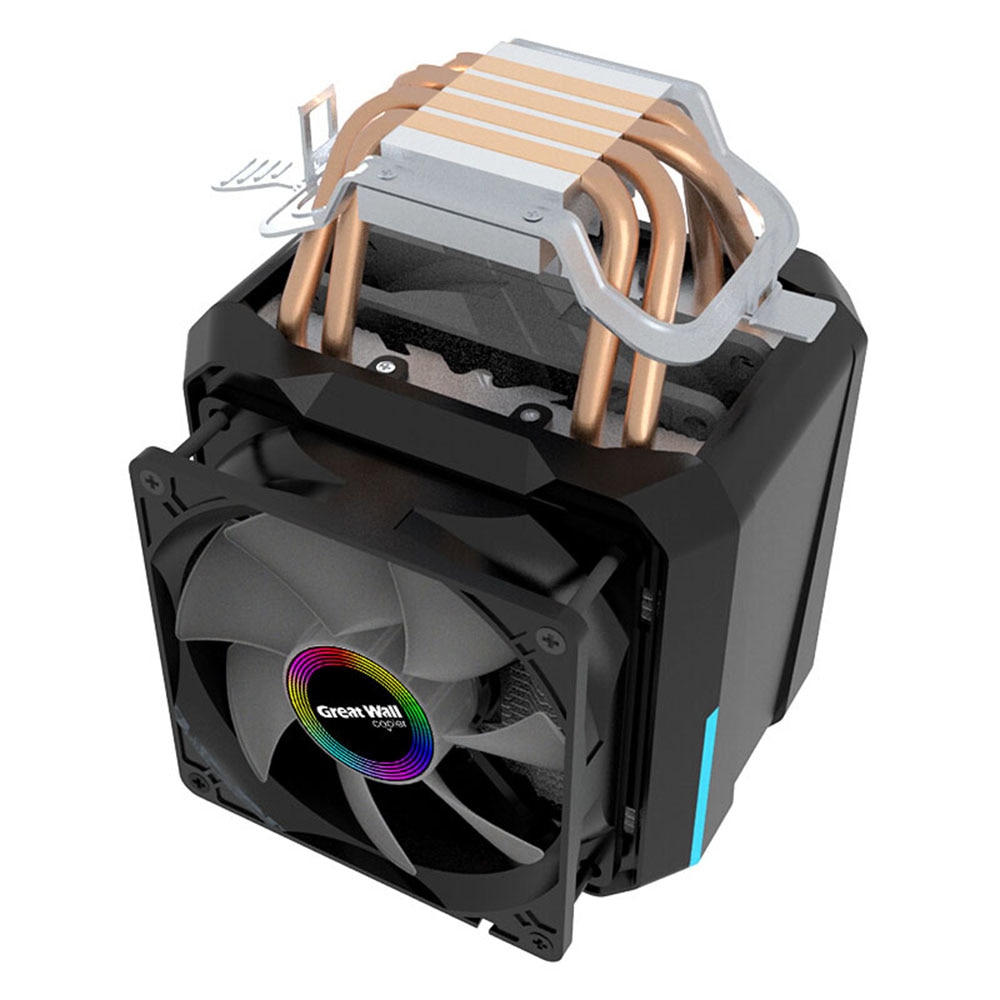 Full Support On Mainstream Platforms
Support INTEL SOCKET LGA1150/1151/1155/1156/LGA775,AMD SOCKET FM2/FM1/AM3+/AM4/AM2/940/939/754.
Easy Installation Without Tools And Excellent Compatibility
Intel LGA775 115X Installation Guide
Step 1: Install the bracket on the motherboard and insert four pins
Step 2: The bracket is mounted on the motherboard (the motherboard is placed on a soft surface or suspended)
Step 3: Insert pin to fix the bracket
Step 4: Apply the thermal paste to the CPU evenly
AMD 754/939/940/AM2/AM2+/AM3/FM1/FM2 Installation Guide
Please be noted: For these type of motherboard(FM2/FM1/AM4/AM3+/AM2/940/939/754), there is no bracket, it can be installed directly on the motherboard.
Step 1: Hang the short side bracket hook first
Step 2: Flatten the radiator with one hand
Step 3: Simultaneously press down the profile with the other hand and hang the hook on the other side of the bracket
Step 4: Move left and right, check if the radiator is installed correctly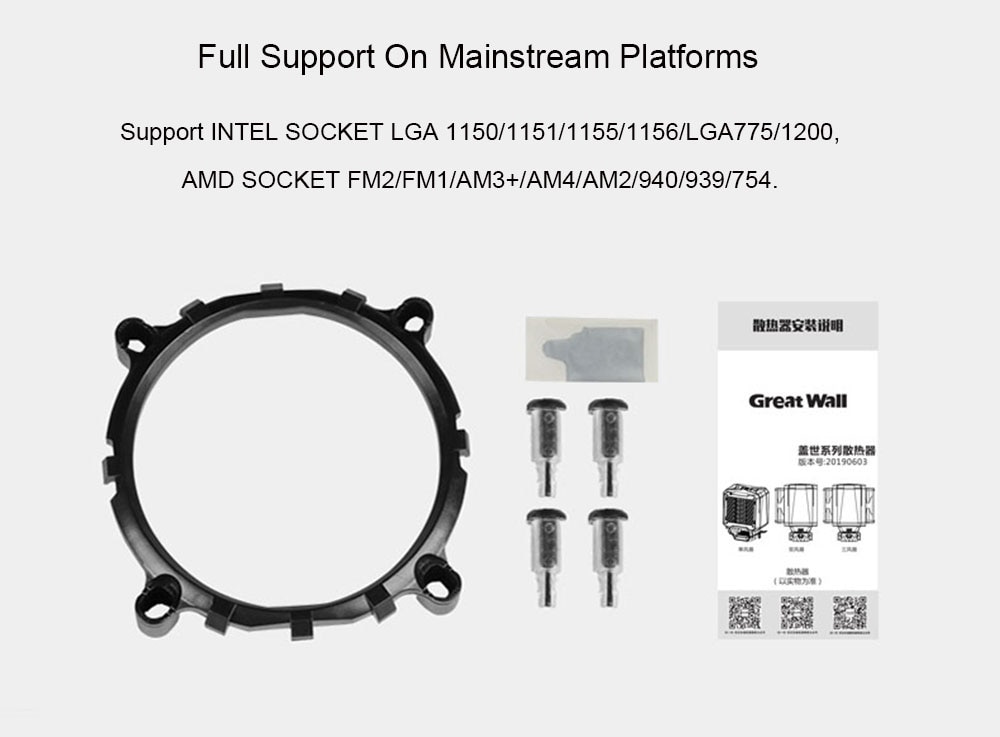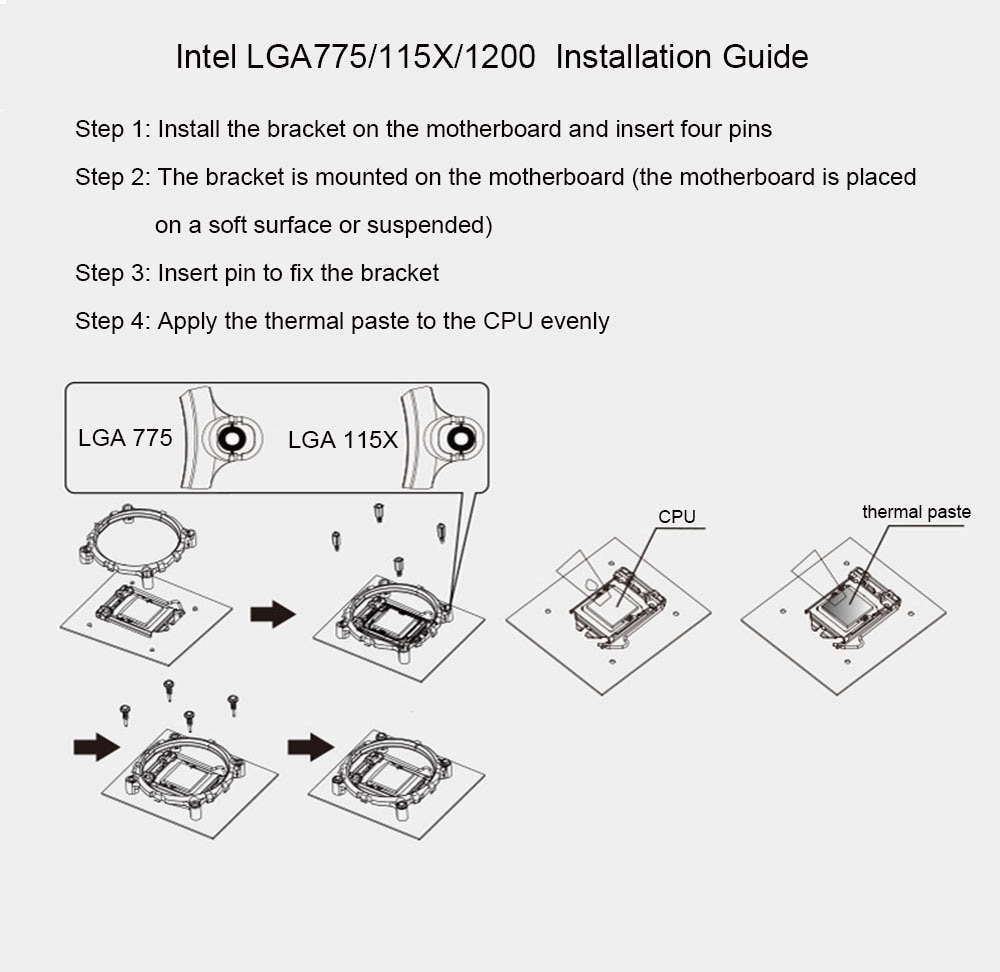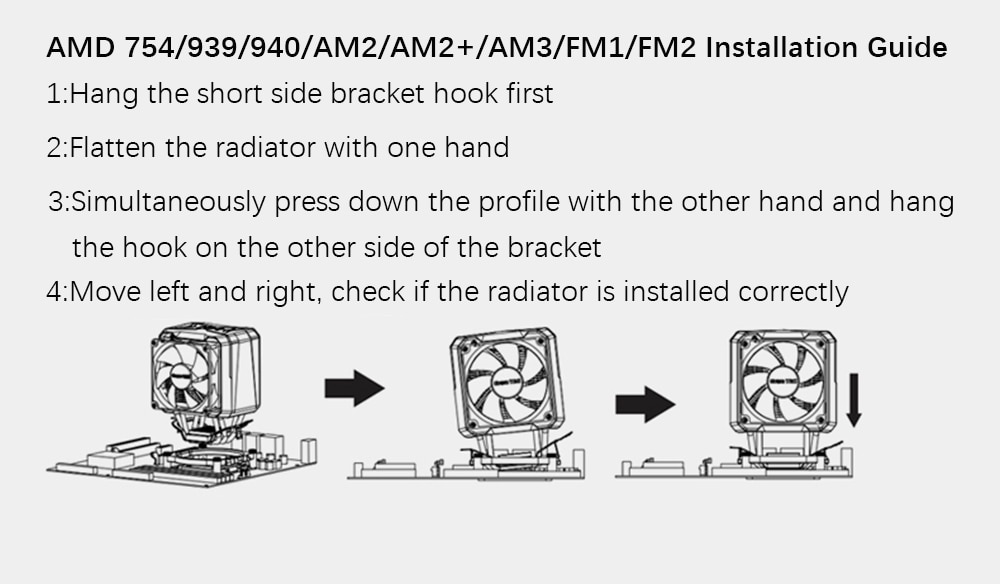 Specific€‹ations:
-Radiator Power: TDP≤145W
-Product Size: 110mm*115mm*150mm
-Fan Size: 92mm*92mm*25mm
-Rated Current: FAN/0.4A(MAX) Light/0.35A(MAX)
-Input Voltage: FAN/DC 5V Light/DC 5V
-Fan Speed: 1500-2500RPM±10%/2000RPM±10%
-Air Volume: 33.9CFM/35CFM
-Fan Noise: 32.2dBA/29dBA
-Product Interface: FAN/4 PIN(PWMi¼‰/3PIN Light/Large 4 PIN
-Bearing Type: Hydraulic Bearing
-Life Expectancy: 40,000h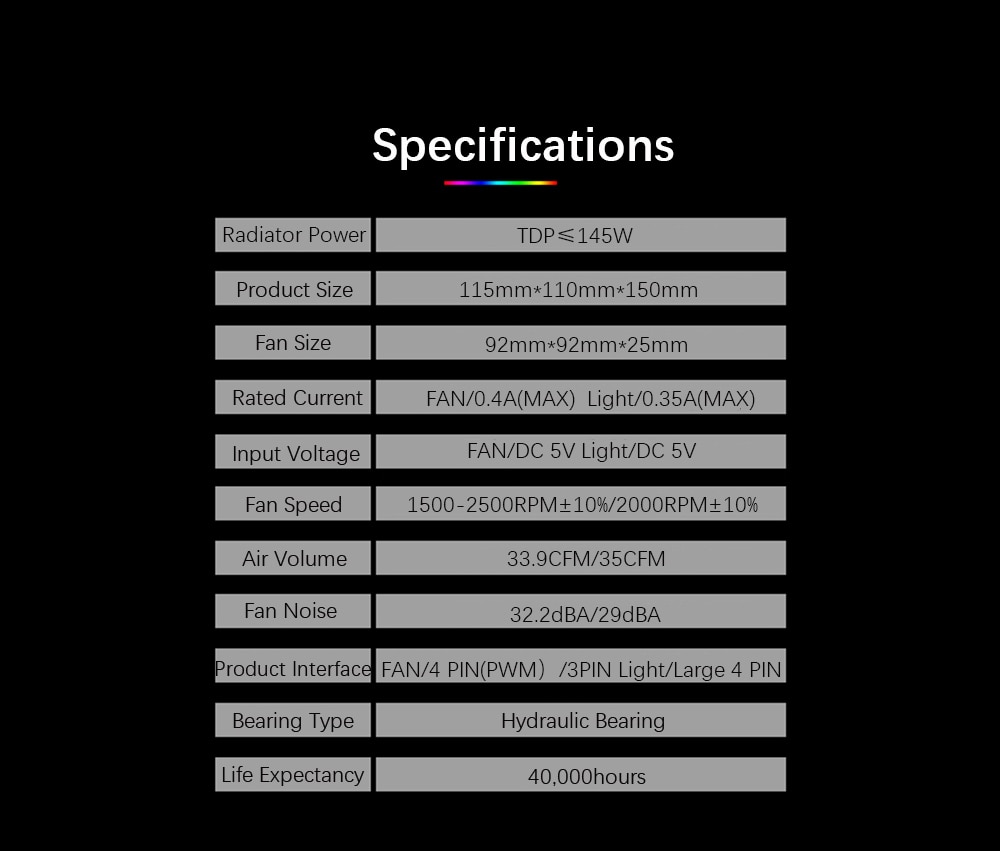 Questions & Answers
Q: What is the TDP of this cooler
A: It's up to 145W
Q: What is the compatibility of this cooler?
A: It depends on your CPU socket type,as long as it belongs to the following type, it's compatible.
Support INTEL SOCKET LGA1150/1151/1155/1156/LGA775/1200,AMD SOCKET FM2/FM1/AM3+/AM4/AM2/940/939/754
Product Videos
Custom Field
Product Reviews